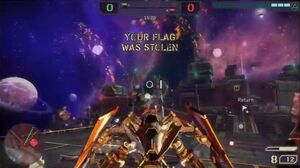 Apogee is a multiplayer map in Starhawk. It takes place in Space, on a station drifting in a distant nebula in the Outer Spur.
Appearance
Edit
Apogee is engulfed in a brilliant red and blue nebula. Dust can be seen in the distance. The map has a lot of elevation changes, along with bridges and large, protective tunnels.
Weapon Locations
Edit
add some!
Gameplay on Apogee is hectic, with teams scrambling to complete objective across the map. There are also plenty of locations to set up strategic forward spawns.
Loadout Support
Edit
Apogee does not support the Ground Pounder and Heavyweight loadouts.
Apogee is one of the smallest maps with the "large" moniker.
---