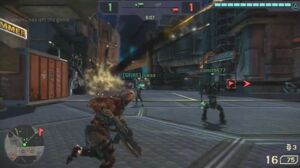 Orbital is a multiplayer map in Starhawk. It takes place in Space, on a station orbiting the planet of Dust.
Appearance
Edit
Orbital stacks multiple levels on top of each other into a small map. The elevation changes here are immense, with high towers, elevated platforms, and two small stations to the sides of the map. Dust can be seen below, and the entire map is engulfed in a sea of floating asteroids.
Weapon Locations
Edit
add some!
The high elevation and small map size make Orbital the perfect playing ground for Vulture Packs. Gameplay usually ends up hectic, and the short distance between the enemy base and you ensures that the action never lets down.
Loadout Support
Edit
Orbital does not support the Ground Pounder and Heavyweight loadouts.
Strategy/Tips
Edit
The tall walls and towers on this map make great natural cover for Outposts.
Take a Vulture Pack with you to traverse the high elevation changes on the map.
---
Community content is available under
CC-BY-SA
unless otherwise noted.